Developed by families, for families.
We are deeply passionate about raising our children to be strong, bold, and compassionate human beings who feel connected to the world around them. That is why we created Boundless Blooms - a company on a mission to provide kids with fun and interactive tools that will help them bloom into confident, kind, and global-minded individuals. We hope you enjoy the beautiful and conscious products we have designed to positively influence the next generation.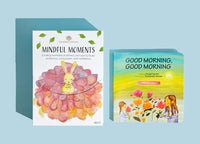 Mindfulness for Kids
We are all capable of tuning into the present moment and tapping into our unique strengths. Our collection of kids mindfulness cards and books are designed to help kids discover new ways to breathe, move, and use their senses to feel more joy, gratitude, and connection. Inspired by a mother and son's journey to incorporate mindfulness into their daily life, these award winning tools use mindful play to cultivate calm, compassion, and confidence.
Shop Now
Build curiosity about the world
Promote family bonding and connection
Introduce fun and interactive activities
Unlock a world of imagination
Grow confidence and spark joy
Build curiosity about the world
Promote family bonding and connection
Introduce fun and interactive activities
Unlock a world of imagination
Grow confidence and spark joy
Share your experiences and help others discover Boundless Blooms by tagging us on Instagram, Facebook, or Pinterest @BloomKindfully